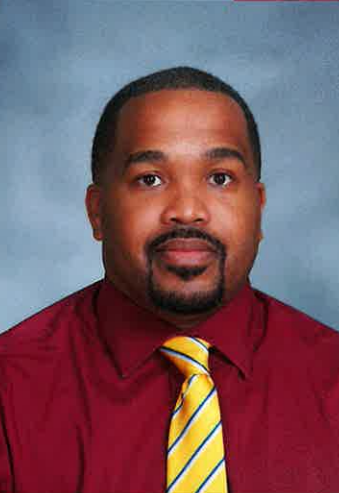 Mr. Derrius Hightower, Principal

Greetings Lions! I am so excited to continue our journey of creating a school that we all can all be proud of.

I attended Eastern Illinois University for both my undergrad as well as my Masters. I have been in education for 9 years. I started my career as a classroom teacher in Danville, Illinois, teaching 4th, 5th, and 3rd grade. While working in Danville School District I had the opportunity to coach football, scholastic bowl, and basketball, as well. Prior to coming to Longwood I served as an Assistant Principal at Mark Denman Elementary School.

I am entering my 2nd year at Longwood. I am excited to take on this next school year to see all of the amazing things our students and staff will do! This year at Longwood we will start our journey of becoming an AVID school. AVID is a framework that we will use to prepare all students to be College and Career ready. We will continue to work on having a growth mindset in everything that we do.

As always, I am grateful to be part of this community and honored to be your principal! Thank you for being a part of our pride.
Mrs. Jennifer Campen, Student Services Coordinator

Hello, Longwood Families!

I am proud member of the Longwood Pride! My journey in Indian Prairie School District #204 began as a Kindergarten student at McCarty Elementary. I am a proud K-12 graduate of IPSD #204! I completed my Bachelors of Arts degree in Elementary Education and English from Carthage College. As a student at Waubsonie Valley High School, it was a dream to be able to return to #204 as a teacher and I was lucky to able to complete my student teaching within the district while attending an out of state school. I was offered my first teaching position in the Fall following graduation as a 5th grade teacher at Graham Elementary.

For the past 16 years I have been fortunate to serve our community as a classroom teacher, Project Arrow and Accelerated Math teacher at Graham, Welch, and Cowlishaw Elementary Schools. In 2017, I transitioned to Longwood Elementary to serve our community as the Interventionist. In 2020, I was thrilled to transition to the role of Student Services Coordinator. I am an avid life-long learner and love participating in and facilitating professional learning opportunities. I received my first Master's degree in Differentiated Instruction from Concordia University Chicago and second Master's degree in Educational Leadership from Lewis University.

I firmly believe we are "Better Together" and our ongoing connection as a school community fosters the greatest opportunity for success for each of our learners. I look forward to partnering and celebrating with you the many ways our students grow and bring joy to our Pride this school year. Thank you for all you do!